KLK OLEO / Davos Life Science
Stand: G49
Bone & Joint Health
Cognitive Health
Digestive/Gut Health
Energy & Endurance
Eye Health
Healthy Ageing
Heart Health
Inflammation
Nutricosmetics
Skin Health
Sports Nutrition
Weight Management & Satiety
Ingredients & Raw Materials
Colourants
Fatty Acids
Softgels
Vitamin E
Not Applicable
Manufacturer
Manufacturer - Ingredients & Raw Materials
Functional Powders
Supplement Tablets & Capsules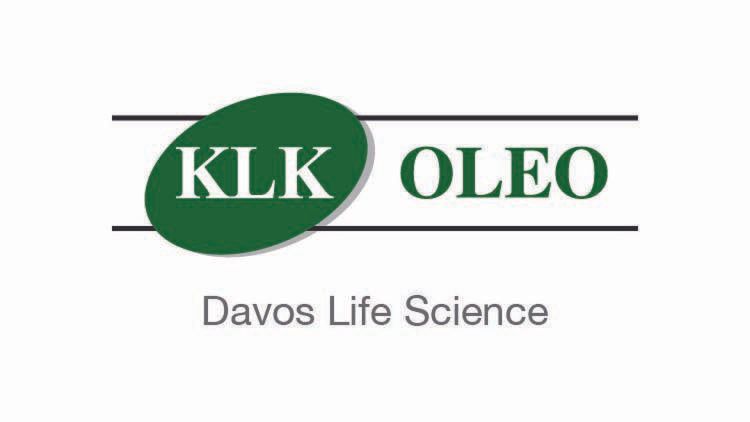 Davos Life Science is part of KLK OLEO, one of the leading market players in producing high-quality Tocotrienols and Natural Mixed Carotenes from non-GMO palm fruits.
DavosLife E3 is a natural Super Vitamin E containing the complete spectrum of Tocotrienols. It is a potent cosmeceutical active ingredient with antioxidative properties up to 60 times more powerful than the common form of vitamin E, alpha-tocopherol and possess strong anti-inflammatory properties not seen with alpha-tocopherol. DavosLife E3 is a functional ingredient for dietary supplements, foods and beverages, as well as cosmetic and personal care products. Countless research studies have shown that Tocotrienols are potent for heart health, liver health, brain health, bone & joint health, radiation protection, skin care, anti-ageing and protection against UV and free radicals.
DavosLife E3 Tocotrienols 50mg softgels are available on-line purchase at www.klkoleo.com/davoslife/estore
DavosLife Biocarotene is a natural mixed carotene complex. It contains predominantly α- and β-carotene that synergistically provide health benefits beyond α-carotene and β-carotene individually. α- and β-carotene are scientifically proven to promote heart health, skin health, healthy ageing, glucose metabolism, bone & joint health, cognitive health, eye health and more. DavosLife Biocarotene can be used in dietary supplements, including softgels and capsules. In the food and beverage industries, DavosLife Biocarotene is used as a natural colour additive (E160a) with rich nutritional value and antioxidative benefits.
At Davos Life Science, our scientists continually conduct research into the benefits of the DavosLife range of products in human health and nutrition, providing Brand Owners with evidence-based claims for their finished products.
Other nutraceuticals and food ingredients produced by the KLK OLEO group of companies will be also showcased at our booth such as PALMESTER Caprylic/Capric Triglycerides (MCT Oil), PALMESTER Triacetin and PALMERA Glycerine.
Our vision - growing to be the most trusted global partner, thus enriching human lives in a sustainable manner every day.
Address
Level 8, Menara Klk,no.1, Jalan Pju 7/6,Mutiara Damansara
Petaling Jaya
Selangor
47810
Malaysia